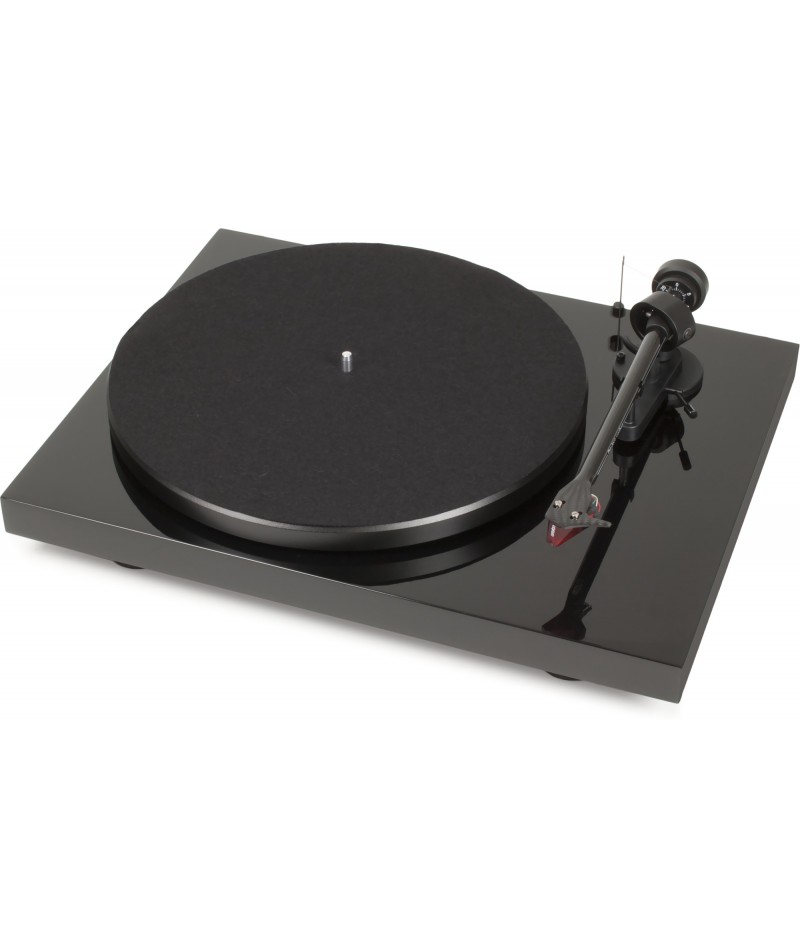  
Pro-Ject Debut Carbon Turntable with Ortofon 2M Red Cartridge
How do you make the best value turntable in the world sound even better? We add the incredible Ortofon 2M Red cartridge!
The Debut Carbon – the world's most popular hi-fi turntable – is now available with an upgraded Ortofon 2M Red cartridge pre-fitted in a full range of gloss finishes.
Available Colours: Piano Black, Glossy White, Glossy Blue, Glossy Yellow, Glossy Red, Glossy Silver, Glossy Green, Glossy Purple
Delivery - FREE delivery Australia wide!

Demo's - should you require a demo please contact us!

Pricing - some items are listed at RRP, contact us to discuss better prices!
The newly offered Ortofon 2M Red cartridge offers the lowest levels of colouration ever achieved in a "moving magnet" style cartridge, all thanks to the inclusion of modern design elements not featured on other contemporary cartridges.
This product represents the new mainstream flagship turntable from the Pro-Ject brand and unequivocally cements the Debut Carbon's leadership in features and value at this high-activity area of the market. With a total value of $629 RRP for the Debut Carbon 2M Red, new levels of performance are achieved in this price-point. The product is unique at the price point, offering motor isolation, native speed regulation circuitry, a true "ultra low-mass" tonearm and a market-leading cartridge – features rarely seen in comparable turntables.
In addition to this newly added feature, the turntable also sports a lightweight carbon fibre tonearm, a minimalistic and audio-driven design, interchangeable interconnects, dust cover, and is available in a full range of glossy finishes - Piano Black, Red, White, Blue, Green, Silver, Yellow and Purple.
Features
8.6" Carbon tonearm
We use premium, cutting edge materials for all our components, especially our carbon fibre Debut Carbon tonearm.
Higher rigidity
Heavily reduced reverberation
No sound colouration - your music sounds pure and natural
Pre-fitted with Ortofon 2M Red cartridge for great sound and a quick start
Sorbothane motor suspension
Our new suspension system ensures noise and vibration is kept to a bare minimum for the best sound.
Significant reduction in vibration
Minimised rumble
Interference-free drive mechanism for pure uninterrupted audio
Powered by a DC supply with ultra frequency DC-driven AV generator for greater speed stability
Full width, medium density main platter
The Debut Carbon utilises a medium density platter with a diameter wide enough to support the entire LP for increased stability.
Improved wow & flutter
Felt mat provided for record grip and smooth performance
2M Red features
an improved engine, which provides an increased output of 5.5mV and an optimized sound reproduction and a high level of sonic accuracy
a tipped Elliptical diamond and split pole pins with a copper wire
2M Red is an all-purpose cartridge that delivers open, dynamic sound with a slight touch of warmth